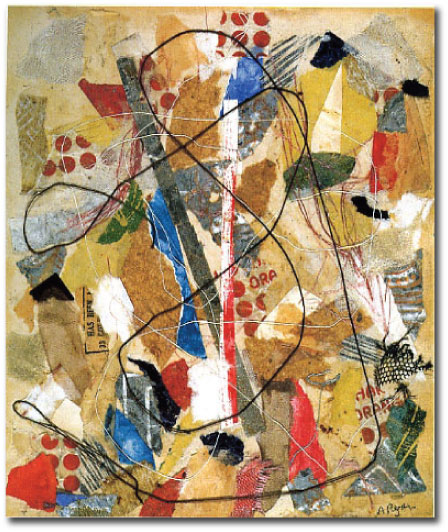 "It's possible to paint a monumental picture that's only 10 inches wide, if one has a sense of scale, which is very different from a sense of size."
— Robert Motherwell
Abstract Expressionism
is a big movement of big ideas realized (in the public imagination) on a big scale. This exhibition illustrates two truths. First, that the Abstract Expressionists worked rather well in a small format. Second, there are terrific artists from the period who are still not well-known and deserve to be.
Suitcase Paintings: Small Scale Abstract Expres- sionism
is comprised of 61 works by 51 artists. The selection spans a period from 1945 – 1965 and features work in oil, collage and drawing in all possible combinations. The exhibit travels to six museums between May 2007 and October 2008. A fully illustrated catalog has been pub- lished to accompany the exhibition.
Anne Ryan (1889-1954)
Untitled, c.1950
collage with paper, fabric, and string
8 x 63/4 inches
private collection, Chicago, IL